McAllen
60 Years of Fierce Representation Against Criminal Charges
McAllen Criminal Defense Lawyer
Personal Attention & Professional Representation
If you are facing federal criminal charges in McAllen, you need to hire an aggressive attorney who can help you fight your charges. At Guy L. Womack & Associates, P.C., we are a father-son team dedicated to protecting the rights of those we serve. We have over 4 decades of shared legal experience. Guy Womack is a former Marine with a substantial list of honors and awards, both civilian and military.
Geoff Womack earned his Juris Doctor from prestigious South Texas College of Law 10 years ago and has been involved in several high-profile cases, including the Abu Ghraib prisoner abuse trials. Together, we provide all of our clients with personal attention and highly professional legal representation during a difficult time.
Legal Representation Federal Crime Defense in McAllen, TX
Federal criminal charges are far different than state criminal charges. Federal charges are more serious and carry heavier penalties than most charges filed in state court. Federal charges could be filed for drug crimes, violent crimes, and cases involving espionage, treason, military crimes and others.
Federal crimes can involve: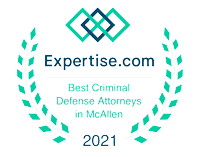 We also handle white collar crimes including:
The conviction rate in federal court is over 90%. It is extremely important that you enlist the help of skilled defense counsel. The legal team at the firm is very experienced at serving as defense counsel in the federal court system, and is recognized for having achieved positive outcomes in extremely tough cases. Your future is at risk. Get a professional McAllen federal criminal attorney on your side at once.
McAllen Office Address (by appointment only)

200 10th Street, Suite 1304
McAllen, Texas 78501
Map & Directions [+]
Contact us to schedule a free case review today. Your freedom could depend upon the skills of your defense lawyer. Talk to us before it is too late.
At Womack & Associates we always fight for the best possible results for our clients and our track record shows that. We've handled 1,000s of jury trials in state, federal, and military courts and have maintained a high rate of not-guilty verdicts, acquittals, and dismissals.
Learn More
60 Years of Combined Experience

Thousands of Cases Successfully Defended

Hundreds of Jury Trials Handled

Highly Respected by the Legal Community

Honest & Straightforward Legal Advice

Accessible & Responsive Representation